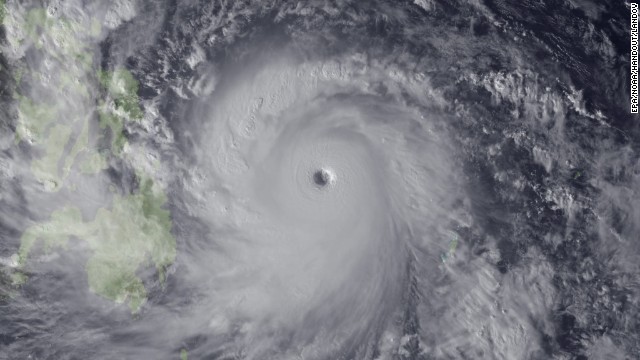 By Meisha Perrin
Super Typhoon Haiyan, dubbed the strongest storm of 2013 and perhaps the strongest typhoon ever, slammed onto the shores of the islands of The Philippines in the early morning hours today with sustained winds of 315 kph (195 mph)  and gusts as strong as 380 kph (235 mph).
The ravaging storm made landfall in the central Philippines around 4:30 a.m. devastating six islands, sending thousands to seek shelter in evacuation centres, and, according to the National Disaster Risk Reduction and Management Council, claiming at least three lives.
Unconfirmed reports from a state-run Philippines News Agency, said around 20 people drowned in the storm's waters, which were as high as 10 feet in some areas.
Damage, though severe, was over quickly as the storm moved westward at a rapid 41 kph (25 mph).
Haiyan, known in the Philippines as Yolanda, retained much of its force as it moved westward with sustained winds of 295 kph (183 mph), which put it well above threshold for a Category 5 hurricane, according to CNN.
And the storm was so large in diameter, according to the U.S. National Oceanic and Atmospheric Administration, that at one point its clouds affected two-thirds of the 1,850 kilometre (1,150 mile) country.
For more information on Super Typhoon Haiyan visit: www.cnn.com